Posted on: 15/08/2019
Waldegrave A Level Results 2019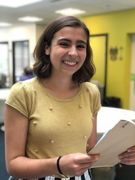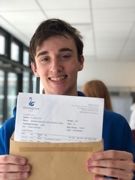 It has been another excellent year for Waldegrave Sixth Form. New Headteacher, Ms Elizabeth Tongue, told us "I am delighted with the achievements of all our students and feel exceptionally proud of them today. As a result of their fantastic hard work and commitment, the support of their families, and the expertise of our teachers and sixth form staff we have celebrated wonderful stories of success and personal accomplishment." Waldegrave students achieved 71% A*-B, with 42% achieving A*/A. Twenty-four students achieved grades A*and A in all their subjects.
Some of these remarkable outcomes include: Ben Hollingdale (A*A*AA) has been awarded a place to study Natural Sciences at the University of Cambridge; Isabelle Legge (A*A*A) has been awarded a place to study Chemistry at the University of Oxford; Lily Winkler who gained (A*A*A*A) will be studying Neuroscience at University College London; Jessie Goodall has been awarded rowing scholarships to study in the USA. Dasha Protsenko has been granted a place to study at the University of Amsterdam where she will be studying Liberal Arts and Science.
Students and parents were enjoying their moment of success on Thursday morning and Mrs Gonzalez, Head Sixth Form said "as a comprehensive sixth form, we are full of pride that we have been able to support so many students throughout their sixth form studies and enabled them to progress onto higher education courses and into careers that match their aspirations. Once again we are sending our students on to study exciting subjects at university, not only in the UK but also in Europe and America. The courses include Aerospace Engineering, Neuroscience, History & American Studies, Fashion Design, Nursing, Criminology and Television Production."
We know that a lot of our students have overcome real adversity to achieve these phenomenal grades, their determination, combined with the care and support of our staff, has resulted in success worthy of celebration.
Congratulations to all our year 13 students. We are incredibly proud of you.