Headteacher's Welcome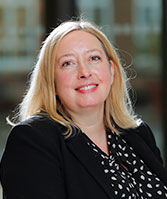 It gives me great pleasure to welcome you to our website. We welcome students of all abilities and celebrate the diversity of cultures, backgrounds and talents which students, parents and staff bring to the school.
Waldegrave has much to offer young adults of the future. We set high standards of behaviour and have high expectations of all of our students. We are proud of the partnership we have with parents to ensure all students reach their full potential and enjoy school. Ofsted reported in 2018 that this is an outstanding school. Our examination results are excellent and reflect the work of committed staff and students. This success has placed the school on the Sunday Times Parent Power list for many years and in 2016 we were named Comprehensive school of the year.
Waldegrave School, however, has much more to offer than examination results. We firmly believe that the most successful students are those who really throw themselves into the life of the school. The opportunities here are many and varied and all students are encouraged to take responsibility for their own learning and make the most of leadership opportunities they are given both in and out of lessons.
Ms Elizabeth Tongue
---
Please could parents complete the Ofsted Parent View questionnaire (it takes less than 10 minutes) by following the link parentview.ofsted.gov.uk. This questionnaire can be completed each year by parents so if you haven't done it since September we would be grateful to you for your feedback. Thank you to parents who have already completed this.