GCSE Results August 2023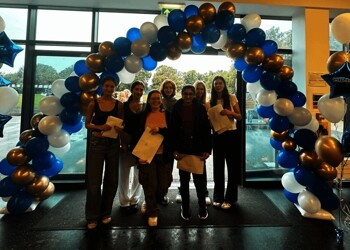 Congratulations to all our Year 11 students who received their GCSE results today. We are so proud of their achievements.
91% achieved at least 5 GCSEs, including English and Maths at grade 4 and above
76% achieved at least 5 GCSEs including English and Maths at grade 5 and above
47% of all grades achieved were grade 7 to 9
Following several years of Covid adjustments, these are the first set of public GCSE exams to return to pre-pandemic standards. Therefore we are delighted that these results exceed those achieved in 2019.
Our students have worked incredibly hard to achieve these tremendous results. There were no mitigations applied to this summer's exams, yet we know that this cohort experienced considerable disruption due to a number of factors beyond their control. The positivity and resilience they have consistently demonstrated has impressed us all.
In addition to our students' hard work, these results reflect the dedication and commitment of Waldegrave staff and families. We hope that everyone will have an opportunity to celebrate these results.
We would like to wish all our Y11 students success in the next stage of their education and we are proud that we have supported them to achieve their goals and aspirations. We know that many will return to us for A level studies and look forward to welcoming them into the Sixth Form.