A Level Results August 2023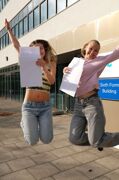 Congratulations to our A level students who have again obtained excellent results, an achievement all the more commendable when we remember that this cohort did not sit public exams at GCSE due to Covid disruption. Of all grades awarded, 43% achieved A*/A and 70% A*-B. In a year when we have seen a reduction in the number of A* and A grades, it is tremendous to see that 25% of students achieved at least three A*/A grades.
The results achieved today demonstrate our students' hard work and commitment to their studies. We are incredibly proud of them all. At Waldegrave we want to support each student in their aspirations so it is incredibly exciting to see the wide range of courses and careers that our students have chosen to pursue including Anthropology; Korean and Linguistics; Computer Science; Marine Biology and Oceanography; Mathematics and Philosophy; Marine and Natural History Photography; Mechanical Engineering; Chemical Engineering; Politics, Philosophy and Economics; Textile Design.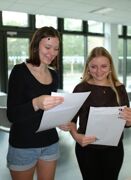 We would like to congratulate all our students on their achievements and share the names of some of those who have secured places on the most competitive courses:
Hassan Akram - Oxford (History & Politics)
Cassia Deakins - Cambridge (Geography)
Cathryn Head - Oxford (Music)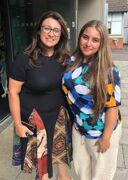 Additional, congratulations to the following students who achieved at least 3 A*/A grades:
Olive Thompson, Connie Wheeler, Jess Dixon, Franci Lynes, Ruby Muscroft, Tinnin Rabbani, Carys Salter, Hanna Saunders, Tia Scott, Alice Shepherd, Johanna Stratford, , Disha Yadav, Emma Schevernels, Bel Charlton-Lee, Elina Daferera, Grace Gaskins, Coco Goddard, Erin Green, Luca Hollywood, Zain Ikram, Daisy Jackson, Poppy Line, India March-Kapoor, Alice Pannall, Lily Phillips, Inara Rabhi, Francesca Ramoutar, Edie Rawle, Zohra Sediqi, Jayden Young, Eric Rodrigues, JJ Connolly, Mia Grant, Freya Mullen, Nakul Patel, Megan Porter, Ruby Roberts, Tara Roy, Molly Sharp, Jemima Spies, Isabella Van Haute, Ellie Randell.
As well as congratulating our students I would like to thank all those who have supported the students to achieve these results. The unwavering support of family and friends, combined with the knowledge and expertise of teachers and support staff have helped students achieve their ambitions.
Ms Tongue, Headteacher